roofing FRANCHISE OPPORTUNITIES
We are actively seeking new franchise partners to join our award-winning brand and share in our success. Our exceptional franchise system has been designed to support you in the daily running of your business so you can focus on winning and completing work.
Grow Your Roofing Business with Topline
If you already run your own roofing business and you're looking to expand and grow, perhaps it's time to talk the Topline Group about becoming a Topline Roofing franchisee.
This page aims to take you through the benefits of joining a bigger team. You'll still be your own boss but will have a large support network around you, along with administration and processes that mean you can focus on growing your business and increasing your profitability.

As you start this new exciting period in your life, rest assured that the Topline Group team will be with you at every step of the way to realise your hopes and dreams. Read on to find out more about Topline Roofing and what franchise opportunities are on offer, and if you have any questions, don't hesitate to get in touch with us.

We look forward to welcoming you to the Topline Group.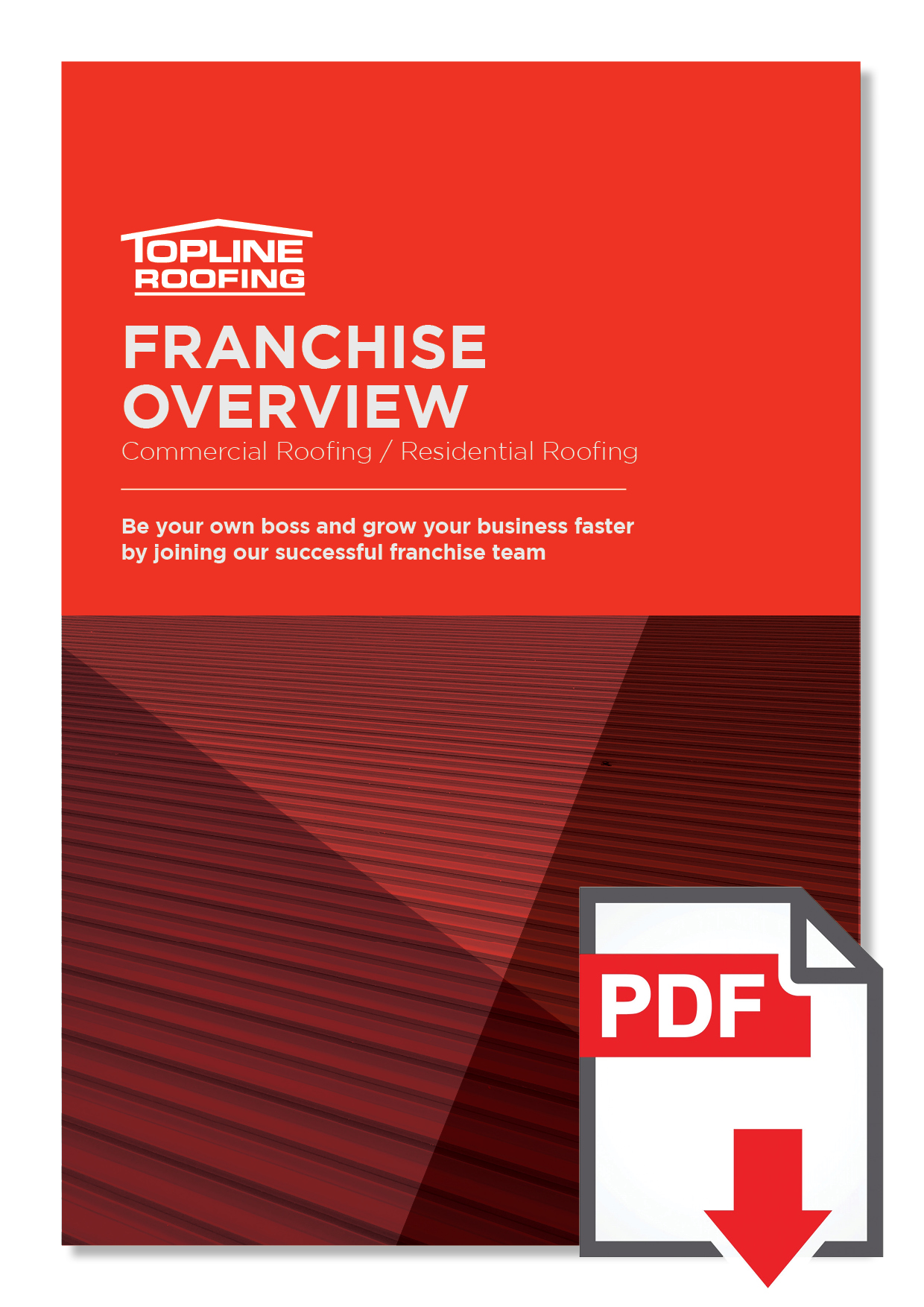 6 Reasons Why to Join Topline Roofing

Our experienced administration team is here to help support you with your business admin, so you can focus on what you do best on-site. They know the industry inside out and provide comprehensive support from quoting and tendering to reporting and account management, all with the aim of helping you deliver an excellent customer service experience.

We have custom developed our own software system, STREAMLINE, to do just that, streamline the day to day running of your business. Streamline is purpose built for our roofing business and is among the best in the industry. A system designed with your business in mind means you can focus on growing your business.

As the franchisor we support you in high level commercial sales negotiations and presentation and we have existing corporate relationships we can leverage to further support you as a new franchisee. Our exceptional marketing team deliver well-executed marketing programmes and are able to support ongoing brand awareness and sales enquiries for your business.

Our team has considerable industry and project management experience and they're here to take care of our people on the ground. The team includes a qualified Health & Safety Manager and an operations team with a wealth of industry knowledge and experience. We have team members available to provide you initial training and ongoing advice and support.

Because of our group buying power we are able to deliver exceptional quality at exceptional prices every day to our clients. Our quoting and tendering is highly competitive and our long-standing relationships and partnerships with quality suppliers allows us to maintain best available margins on the work we undertake.

By joining Topline Roofing, you get access to all of the outstanding support above, which allows you to focus on getting out and growing your business. As you continue to grow you also build a scalable asset that will well repay your efforts in the long run. Topline Roofing is an exceptional opportunity focussed on the future.
---
Our Guiding Principles

The management team at Topline Group has invested a significant amount of time and money into our personnel.

We believe we're a cut above the rest, with our hugely experienced, accredited and licensed team.

At Topline Roofing we are a united team with balanced and wide-ranging expertise, capable of delivering exceptional results.

Topline Roofing follows best building practice guidelines and codes and adheres to E2/AS1 weathertight solutions.
---
What We're Looking For in Our Franchisees
We realise that becoming a Topline Roofing franchisee is a huge step for you to undertake, but it's also a big decision for us too.
We need to recruit people who will uphold our values and be great ambassadors for the Topline Roofing brand. If you can answer yes to the list of expectations below, then we should talk. You must...
Be able to commit to our business principles of quality, expertise, reputation and compliance
Have good communication skills and the ability to promote your business
Take pride in your personal appearance as well as your staff, vehicles etc
Be prepared to keep abreast of new information, material and techniques made available to you
Be in a financially sound position
Thrive on challenges
Be motivated to plan and work towards achieving set goals
Be able to work independently
Be willing to work as part of a franchise team
Be in good health
Hold a current full clean driver's licence and be clear tested for drugs and alcohol. We will not consider applicants with a criminal history.
The Next Step...
At this point, should you wish to proceed, contact Shane Boullé on the contact details provided below.
The Topline Group will then contact you to discuss your application further, with particular regard to which location you may be interested in, and whether you are looking at commercial or residential roofing opportunities. You will also be required to complete the Franchise Application Form which includes completing a Statement of Financial Position. We acknowledge that all information provided by you is strictly private and confidential and all information supplied will remain confidential to the directors of the Topline Group.
Contact Shane Boullé on 0800 111 818 or email franchise@topline.co.nz