commercial metal roofs & cladding, auckland
Looking for a commercial roofing company in Auckland to replace, or supply and install a new metal roof and metal cladding? Topline Roofing are the team to choose for your long run metal roofing solution. Whether it's a new factory roof, school roof, warehouse, office block or retail space, our metal roofing specialists are one of Auckland's leading roofing contractors. Although our commercial roofers are based in Mt Eden, our roofing teams are proud to install top quality commercial metal roofs from small to large clients across the greater Auckland region.
We also install residential metal roofs >
Commercial Roofing Replacement and Installation
Topline's roofing experts have vast experience in installing roofs over a wide variety of commercial projects across Auckland. Whatever your roofing requirements, our operations team will make it a smooth and efficient process, ensuring Topline's high workmanship standards are upheld and the job is completed on time and on budget.
Why is Metal Roofing so Popular in New Zealand?

We have experience across all properties, commercial and industrial complexes, retail and corporate premises. We also offer residential roofing services.
A new roof may seem like a large financial commitment at first, but with the right aftercare, a new metal roof can last for 20 years or more. Metal roofing is ideal for commercial buildings as it can withstand the harsh weather conditions, is easy to maintain and keep clean, and most importantly is weatherproof when installed correctly.


CLIENT FEEDBACK:

"Topline replaced the roof on our commercial property. We are very happy with the outcome. The project was delivered professionally, Communication was first-rate." Michael D
How Topline Can Help
Topline's team of dedicated Technical Consultants, Estimators, and Project Managers are on hand to offer professional advice on the best roofing solutions. We understand that no two properties are the same and that requirements differ from building to building. For instance, factories and warehouses may benefit from the addition of clear sheets, which allow natural light into the space and save on lighting and electricity costs. We can also supply and install a range of roofing accessories including insulation, customised flashing, gutters, rainheads, roof ventilators, roof anchors, and walkway systems. Topline's technical consultants can customise a solution that fits the specific needs of each commercial property.
What to Expect When Replacing a Roof

A representative from Topline will take measurements and evaluate which materials are most suitable for the roof. This is the time to address any specific technical queries and discuss colour options. The job will be priced up and a written quote provided. On acceptance of quote, Topline will organise a pre-let meeting where all aspects of the job and project management will be outlined, including the processes to manage materials, tenants, and site access. Topline is also able to project manage any external suppliers such as scaffolders, painters, electricians, and asbestos removal specialists if required. Of course, Topline is also able to provide plumbing, gasfitting, and drainage services, including the installation and maintenance of commercial backflow devices.
Click here for a detailed description of Topline's Commercial Project Management Process.
Benefits of Metal Roofing
Topline specialises in metal roofing for good reason. The main advantages of a metal roof include:
Durability: metal roofs are full length and pre-painted to last
Maintenance: metal roofs are easy to clean with a pressure wash
Customisable: metal sheets come in different styles and can be combined with clear sheets for natural light
Weather Resistant: metal roofing stands up to harsh Auckland weather, utilising proprietary flashings
Sustainability: metal sheets are able to be recycled
Strength: metal roofs actually brace the structure and make it stronger
Topline are The Roofing Experts
The Topline Roofing team are highly skilled professionals. We stand by our work and our customers know us for our exceptional standards of quality and expertise, which is why we provide our customers with warranties for all commercial roof replacements. Topline works with trusted suppliers and brands including RoofLogic, Roofing Industries, Dimond Roofing, and Steel & Tube, and also offer a Programmed Asset Maintenance service to our customers to ensure that the conditions of those supplier warranties are satisfied. With regular maintenance, any roof we install will remain weathertight and in excellent condition for years to come.
Health and Safety is our Top Priority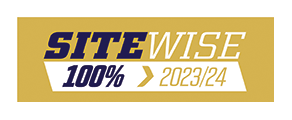 Topline is proud to have achieved SiteWise Gold Status with a score of 100% for 7 years running. Fewer than 3% of businesses have attained Gold Status, which shows our ongoing commitment to providing a safe environment for both our team and our customers. Health and safety is at the heart of everything we do and Topline will continue to maintain these exceptional standards by making health and safety our top priority. Topline is a member of RANZ (Roofing Association New Zealand).
Get in touch with Topline's knowledgeable team of roofing experts now to see how we can help with your commercial roofing requirements. Enquire online or phone 0800 555 818.