membrane roofing
Expert Installers of Commercial & Industrial Flat Roofing Solutions
Auckland's commercial flat roof / membrane roofing experts, Topline, have been installing flat roofs and membrane roofing solutions for over 35 years. Topline is one of Auckland's preferred installers of Viking Roofspec TPO Membrane Roofing. TPO is similar to rubber roofing, known as Butynol or Torch On, but is safely fusion welded with fewer joins, which is why Topline chooses TPO over other forms of membrane.
We are proud to have supplied and installed high quality membrane roofing solutions on many commercial and industrial builds, factories, shopping complexes, and schools across the greater Auckland region. We believe in delivering quality solutions that last.

To achieve this, we only use quality products, follow best practice with excellence in health & safety, and have a great team of highly skilled membrane roofers who are committed to ongoing training. To top it off, we stand behind our work with the Topline Guarantee.
We also repair and install membrane roofs for residential customers >
CLIENT FEEDBACK
"These guys are very professional and have been great to deal with. I would highly recommend" Ronan N
MEMBRANE ROOFING INSTALLERS, AUCKLAND
Viking Roofspec Approved Applicators, Auckland
Auckland's approved applicators for Viking Roofspec which offer extensive roofing products, rubber roofing and waterproofing systems for use on commercial buildings.
Low-Pitched Commercial Roof Solutions
Certain properties require a low-pitched roof or flat roof due to boundary restrictions and need to be fitted with the correct roofing materials to ensure they remain weathertight. These properties lend themselves to the installation of TPO, or Thermoplastic Polyolefin, membrane roofing which is widely used in New Zealand.
WHAT IS MEMBRANE ROOFING?
Membrane roofing offers excellent weathertightness, so is ideal for use on commercial roofing, gutters, and parapets to protect valuable business assets from potential leaks. Membrane roofing is ideal for the harsh Auckland weather and can tolerate high winds, heavy rain, and strong UV rays.
Looking for a commercial roofer to work with TPO Membrane?
Having TPO specialist roofers on our teams who are trained in the installation of Viking Roofspec products ensures we know a lot about the product, and we love it. Here's why we love working on TPO Membrane roofs to deliver great results for clients.
Why TPO Membrane?
TPO Membrane is durable, tear-resistant, and most importantly, weathertight. This makes it the perfect solution on flat roofs and low-pitched roofs. Joints are fusion welded with hot air dispensed from a heat gun which retains the join integrity and, more importantly, is also the safest way to weld joins together. We believe in working with quality products to ensure that the investment in your roof will stand the test of time.
Membrane Roof Repairs, Auckland
Topline can carry out short term solutions and repair work if your commercial flat roof needs fixing. In some cases, a quick repair might be necessary to address an immediate concern whilst considering a full reroof.
Butylnol Roofs - Repairing a Flat Roof
Viking Roofspec Silcoat is a liquid membrane system that can be applied to virtually any existing roof surface to extend its life. One of Topline's TPO specialists will be able to determine whether this option is suitable.
Warm roof systems can be laid over an existing membrane (or metal) roof. Warm roofs add an extra layer of insulation and combat noise, condensation, humidity, and damp, making it an ideal roofing solution for commercial properties. There are various systems available and one of our roofing experts can advise on warm roof options which may be suitable. Find out more about the benefits of a warm roof here.
WHAT ARE THE BENEFITS OF A MEMBRANE ROOF?

There are numerous benefits when installing a membrane roof, including:
High Thermal Insulation Properties
Warm in Winter, Cool in Summer
UV Resistance
Heat Reflective
Sustainable and Recyclable
Non-Disruptive Application for Tenants
Durable
Reduces Exterior Noise
Weathertight
THE TOPLINE TEAM WILL ENSURE IT'S BUSINESS AS USUAL
At Topline, we understand that efficiency is everything, especially in today's market. Any downtime in day to day business running can mean lowered productivity and income. The expert team at Topline will ensure minimal disruption to workers, tenants, and business as usual through open communication and planned project management. Topline's team of dedicated Technical Consultants, Estimators, and Project Managers are on hand to offer professional advice on the best roofing solutions as we understand that no two properties are the same and requirements differ from building to building.
WHAT TO EXPECT WITH A NEW ROOF
A representative from Topline will take measurements and evaluate which materials are most suitable for the roof. This is the time to address any specific technical queries. The job will be priced up and a written quote provided. On acceptance of quote, Topline will organise a pre-let meeting where all aspects of the job and project management will be outlined, including the processes to manage materials, tenants, and site access. Topline is also able to project manage any external suppliers such as scaffolders, painters, and electricians if required.
Of course, Topline is also able to provide plumbing, gasfitting, and drainage services, including the installation and maintenance of commercial backflow devices.
Check out Topline's Commercial Project Management Process for a detailed description of how we can help.
TOPLINE ARE THE MEMBRANE ROOFING EXPERTS
Looking for a specialist membrane roofer in Auckland? The Topline Roofing team are specialist trade experts and we stand by our work. Our professional membrane roofers are highly skilled and we make sure to provide our customers with warranties for all commercial roof replacements. Topline works with trusted suppliers such as Viking Roofspec and also offer a Programmed Asset Maintenance service to our customers to ensure that the conditions of those supplier warranties are satisfied. A new roof is an investment and should be treated as a business asset. Proper maintenance of your membrane roof will ensure the longevity of a newly installed flat roof.
HEALTH AND SAFETY IS OUR TOP PRIORITY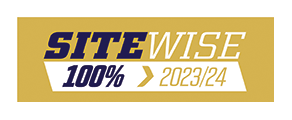 Topline is proud to have achieved SiteWise Gold Status with a score of 100% for 7 years running. Fewer than 4% of businesses have attained Gold Status, which shows our ongoing commitment to providing a safe environment for both our team and our customers. Health and safety is at the heart of everything we do and Topline will continue to maintain these exceptional standards by making health and safety our top priority.
Check out two examples of flat roof solutions installed by the Topline Roofing team:
Mt Eden Corrections Facility l Unitec Walkway
Topline are a member of RANZ (Roofing Association New Zealand) so get in touch with our knowledgeable team of roofing experts now to see how we can help with your commercial roofing requirements. Enquire online or phone 0800 555 818