Programmed Asset Maintenance
Auckland's specialist commercial roofers, Topline Roofing has developed a unique roofing maintenance programme to help make it easy to look after the roof on your business or school property. With regular roof inspections, we can create roof reports, undertake roof repairs, regularly clear leaves and debris from gutters and carry out any roof maintenance required, so your roof is in optimal condition and adheres to manufacturers warranty requirements.
If you require programmed asset maintenance for any plumbing, gasfitting or drainage, our sister company Topline Trade Services can help >
Auckland Commercial Roofing Programmed Maintenance Services
Regularly servicing and maintaining your commercial property can identify problems before they occur, saving you potential headaches and high costs down the track. More importantly, it's needed in order to comply with manufacturers warranty requirements.
Roofing Warranty Programme

Warranties may be waivered by manufacturers if the terms of the warranty are not followed – this includes the washing of unwashed areas. Topline Roofing has a warranty programme that is tailor-made to comply with individual roof requirements.
It always pays to work with a reputable company, such as Topline, who have experienced licensed applicators, as any materials incorrectly specified or incorrectly installed will not be covered by manufacturers warranties.
Roof Asset Management
Topline's team of experienced Project Managers will formulate a schedule of service maintenance work, customised for your needs. Our tailor-made software keeps track of your service schedule, which means our team will make sure your property is inspected at the right time and will keep you informed about anything needing to be repaired or replaced.
Scheduled Roofing Maintenance
Topline's Programmed Asset Maintenance initiative is a simple, cost-effective way to help efficiently manage the demands of commercial property upkeep. The Maintenance plan is fully automated and is created with your specific requirements and budget in mind, so there are no surprises. As all maintenance and service work is scheduled in advance, Topline can ensure we are always available.
Roofing Compliance & Health and Safety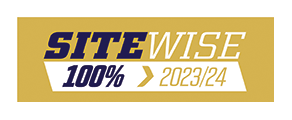 Topline Roofing will help your property stay compliant with industry regulations and avoid downtime or disasters by tackling problems early. Did you know that something as simple as a blocked gutter can cause roof leaks? The specialised team at Topline are fully trained for all health and safety requirements for Height Safety and have a SiteWise Gold status with a score of 100% for the 7th year running. We will also provide the necessary tools and equipment to get the job done safely and efficiently.
The Topline Roofing team can provide gutter cleaning, roof inspections, reports, recommendations, maintenance programmes to support manufacturer warranty requirements, technical support, aerial photography and videos, and more.
Customised Roofing Maintenance Programmes
Our Programmed Asset Maintenance is always done on a roof by roof basis and some roofs require more attention than others. Whether it is one, three or six monthly, or even annually, our team can advise you on which service scheme will suit your property best.
Topline Trade Services (our sister company) also offers commercial asset management programme for plumbing, gasfitting and drainage services.
Talk to us today to see how our Project Management Team can help you keep your commercial property in the best possible condition - phone 0800 555 818.