Celebrating 100% SiteWise Gold

Date: 11 October 2023
Health & Safety Pre-Qualification.
Topline is incredibly proud to have achieved the 100% SiteWise Gold Status for the 2023-2024 period for the 7th year in a row (from 2016/2017).
This annual health & safety assessment by SiteWise is exceptionally important to all reputable commercial roofing and commercial plumbing contractors across Auckland and New Zealand.
Why It Is Special to Achieve NZ's SiteWise 100% for 7 Years Running?
Less than 4% of businesses in New Zealand have attained the Gold Status, and fewer still, only 0.3%, have managed to maintain a 100% SiteWise status for 3-7 consecutive years.
To put this in perspective, less than 3 in every 1,000 businesses which attained Sitewise accreditation in 2023/2024 can say they have consistently achieved this ongoing, high level of commitment to health and safety.
What Does Achieving SiteWise Gold mean?
Topline, Auckland's commercial roofers, and commercial plumbers, gasfitters, and drainage contractors, have demonstrated that high quality health and safety systems are in place within the team and business. It reflects an ongoing commitment to Health & Safety.
To achieve Gold Status, businesses must score 90% and over. Topline's SiteWise Assessment Score was 100%
Why is SiteWise So Important?
If you are in the commercial industry, SiteWise is often required in the prequalification assessment process when choosing a commercial roofing or plumbing contractor. It shows we follow the rules - we have processes in place to keep everyone as safe as possible by managing and minimising any health and safety risks.
What Are the Criteria and How Did We Do?
Evidence supporting comprehensive capability in all areas as assessed below:
Insurance - Valid documentation
Health & Safety –Procedures & policies
H&S Meetings – Briefings held regularly
Incidents and Accidents – Investigated, recorded & discussed
Sub-contractor Management – Checklist, review & follow up process
Training & Competency – Health and Safety, trade skills & leadership training
Hazards & Risks – Site specific register & reviews
Inspections – Records with reviews & updates
High to Critical Risk Activities – Task analysis, risk assessment, discussion & signoff
Health Monitoring of Workers – Pre-employment & regular checks
Hazardous Materials – Management plan, register & SDS sheets
History of Work Place Investigations - Nil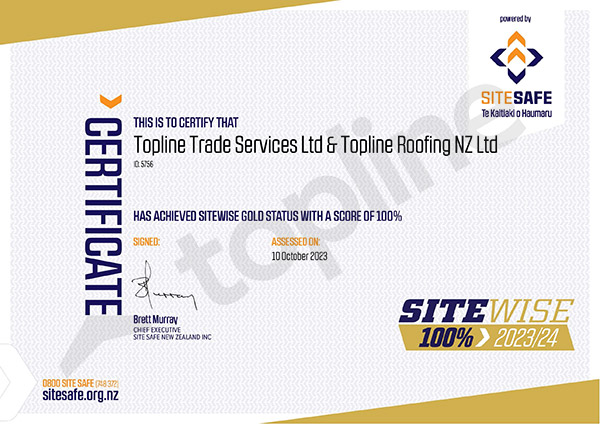 The SiteWise 100% status means a lot to Topline. Not only does it add to our proven record, it also gives us credibility and validates what we are constantly striving for – maintaining the highest possible standards across our business.
If dealing with a company who prioritises best practice is important to you, get in touch with Auckland's SiteWise Accredited Contractors, Topline Roofing, Plumbing, Gasfitting, and Drainage. Our team of specialist trade experts are happy to help!