Auckland's Leading Roofing Specialist
Established in 1987, Topline Roofing has a proud reputation for providing the very highest quality workmanship across industrial, commercial roofing projects and residential re-roofing.
You can trust Topline's team of roofing specialists to complete your project with integrity and professionalism, on time and on budget. Our team are roofing experts; as previous winners of the RANZ Roofing Training Company of the Year Award, our roofers are experienced and highly trained.
We have the tools and training to repair, replace and install metal roofing & cladding, warm roof systems, provide flat roof solutions such as membrane roofing, and supply quality roofing accessories on commercial roofs. Or if you need roof replacement for home, whether it's a metal roof, warm roof or flat or membrane roof solution we can help with residential re-roofing too.
Roofing Warranties - Topline Guarantee
You can trust us to provide prompt, friendly service, backed by comprehensive experience and expertise. As members of RANZ, the NZ Roofing Association, we stand by our work in line with its warranties. We pledge to offer you trustworthy roofing advice and high-quality roofing solutions for cost-effective results that are built to last.
Health & Safety, Compliance Best Practice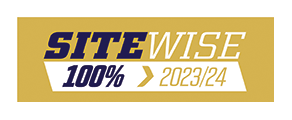 Topline has always taken Health & Safety very seriously. We strive to ensure that every member of our team always works to Health and Safety best practice at all times. We have an HSE Manager responsible for overseeing our health and safety programme ensuring compliance with the latest workplace safety guidelines. We are proud to have achieved the SiteWise Gold Status, with a score of 100% for the seventh year running.