Auckland's leading commercial roofing specialist
If you are looking for the very highest quality workmanship across commercial roofing and industrial roofing projects, then you should talk to the experts at Topline Roofing. We always deliver, completing your roofing project with integrity and professionalism, on time and on budget.
Our Core Services Include:
We have experience across all properties, from commercial and industrial complexes, to retail and corporate premises. We also offer residential roofing services >
We Have Undertaken Roofing Work For:
Major schools (state and private)
Tertiary education institutions
Rest homes and retirement villages (both corporate and independent)
Government institutions
Auckland Council
Hotels
Property management companies
Construction companies
Commercial and residential property owners
Major corporations
Additional Commercial and Industrial Roofing Services: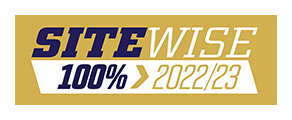 The Topline Roofing team can provide proven recommendations to make key property management decisions for: budgeting purposes, costs effectiveness, energy savings and future-proofing ongoing maintenance.

We are proud to have achieved SiteWise Gold Status, with a score of 100% for the sixth year running.


Take a look at our range of roofing services and if you'd like more information, a quote or to discuss your next roofing project, then get in touch. Enquire online or phone 0800 555 818.