Warm Roof Systems
As warm roof systems improve ventilation, reduce condensation, and minimise noise, they are a great solution for many types of business premises. They can also be retrofitted, so you don't need to remove the existing roof material, which is great for your tenants.
Keeping your commercial building warm, dry, and ventilated is not just about maintaining a comfortable environment. Whether your building is an office or a warehouse, you want to know that your business assets are protected from the elements. Traditional flat roof systems can increase the risk of condensation, leading to issues with cold, damp, and mould. If you are concerned about poor ventilation and condensation affecting your people or product, maybe it's time to consider a warm roof system. Warm roofing reduces condensation and outside noise whilst maintaining a comfortable internal temperature all year round.
We also install residential warm roofs >
What is a Warm Roof System?

Essentially, a "warm roof" system means the roofing insulation is on the outside of the roof structure, instead of underneath, and a weatherproof membrane is applied above to ensure the roof area remains dry.
Traditionally, flat roofs have a weatherproof covering on the top of the structure with insulation applied in between the rafters. However, vents are needed between the insulation and the timber framing to allow the circulation of air, otherwise condensation occurs on the timber rafters. Condensation causes dampness, mould, and the eventual deterioration of timber and other materials, which can cause serious long-term damage and is also a health risk. Warm roof systems negate the need for these air flow gaps, as the insulation is outside of the timber structure, therefore eliminating any chance of condensation.
As the name suggests, warm roofs offer superior insulation to traditional flat roof systems which means a warmer, drier, quieter, and most importantly, weathertight environment. Large spaces also need a lot of power to keep them at a constant ambient temperature. A better insulated interior is more energy efficient, saving your business on heating and cooling costs.
Auckland's Roofing Professionals
The Topline Roofing team are highly skilled and licensed roofing experts and we stand by all of our work. As such, we only use the highest quality products from trusted suppliers. Our preferred suppliers for warm roofing are Roof Logic and Viking Roofspec.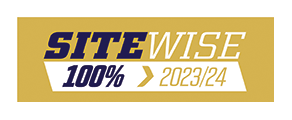 Topline Roofing also take Health and Safety seriously, recently achieving a SiteWise Gold Status with a score of 100% for the 7th year running. You can rest assured that we are committed to exceptional standards of safety and professionalism on site.
Get in touch with the Topline Roofing team today – we will talk you through our supplier products and offer advice on the most suitable warm roof system for your business. Auckland roofing experts, Topline Roofing, have been in the industry for over 35 years, so you know you can trust the team's professional advice when it comes to commercial roofing projects.
Make an enquiry now, or call Topline Roofing on 0800 555 818