COMMERCIAL ROOFING PROJECT MANAGEMENT
Effectively project managing commercial roofing projects is a key service the Topline team exceeds at. Our Auckland-based Project Managers at Topline know careful planning and scheduling is essential, ensuring supplies, equipment and trades are available on site at the time they need to be, and the budget is in check.
We also manage residential projects >
Roofing & Trades Project Managers, Auckland
Whether it's a commercial new build or re-roof our team can project mange your commercial site. Topline can help with multiple commercial roofing services such as a complete factory reroof, complete warehouse reroof, partial reroof, and supplying and installing roofing accessories such as clear sheets, roof anchors, flashings, gutters, rainheads, insulation, roofing ventilation, and retrofitting warm roofs. Topline appreciates that time is a valuable asset, and lost time means lost income when it comes to running a business. That's why we have a robust process in place to keep you informed of progress at each stage of the job.
CLIENT FEEDBACK
"In my opinion, the project success was due to Topline's professionalism and the hands on approach taken by their project manager. Every aspect of the work was planned and well communicated." Operations Manager, Smith & Caughey
Topline's Project Management Process


Initial Site Visit
A representative of our team will meet you on site to discuss your roofing options. We will measure up and evaluate what roofing materials are the most appropriate, depending on factors such as roof type and pitch, access, budget, and individual requirements. Topline's operations and project management team are experienced roofers who are able to advise on the best solutions (e.g. long run metal roofing, membrane roofing, or a warm roof system) and make technical recommendations as necessary. This is also a good time to discuss colour options if applicable.


Quote Generation
We will provide a written quotation which details the options as discussed in the initial site visit and outlines any exclusions. All quotes must be accepted in writing prior to the commencement of any work. This ensures that the team are fully briefed and that there are no surprises for our customers.


Pre-Let Meeting
This is an extremely important stage of the roofing process where our project managers and technical consultants will discuss all of the potential issues on the project. Every detail is covered off, including Health & Safety, access to the roof and site, tenants, materials, and ensuring the work area is safe. We will present timelines along with our insurance policies and warranties. This is an excellent opportunity for customers to meet our roofing team and address any questions.


Site Specific Safety Plan (SSSP)
Every project we work on requires a Site Specific Safety Plan (SSSP). This folder details every component of the project from site set-up and project management, through to Health & Safety and emergency plans. We have a dedicated Health and Safety department and pride ourselves on our exceptional standards of health and safety. The health and safety of our team AND our customers is a top priority and absolutely nothing is left to chance.
Management of External Suppliers
Topline have been in the roofing industry for over 35 years and have vast experience in project management of both large and small sites. We can manage any associated trades to ensure a smooth job flow. Topline is able to provide plumbing, gasfitting, and drainage services, including the installation and maintenance of commercial backflow devices, and can project manage any external suppliers such as scaffolders, painters, electricians, and asbestos removal specialists if required.
Toolbox Meetings

Toolbox meetings are a critical part of both Health and Safety and Operations on site. Our team will hold a toolbox meeting on-site every morning to outline the day's tasks, assess the site conditions, address any health and safety concerns, communicate any job updates, and formulate a work plan. Any visitors or other contractors on site will be signed in and attend the Toolbox. This means anyone entering the site is inducted, aware of protocols, and every person knows what their tasks for the day are.
Site Meetings
Communication is key in the building industry, which is why Topline hold regular meetings with clients to discuss work in progress, any issues which have arisen during the course of the work, and how timelines are tracking. This is done via a status report.
Final Inspection
Upon completion, the Project Manager will sign off the project in line with our Quality Assurance process. Final sign-off occurs when we are 100% satisfied with the completed roof installation and we have met all Quality Assurance requirements. Our work is backed up by our full warranty system and individual supplier warranties will be emailed to you.
Warranty Requirements
Topline offers a Programmed Asset Maintenance service to our customers to ensure that the conditions of those supplier warranties are satisfied. With regular maintenance, any roof we install will remain weathertight and in excellent condition for years to come.
Topline are The Roofing Experts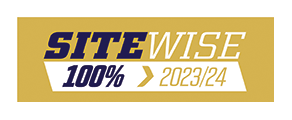 The Topline Roofing team are trusted for our expertise, knowledge, and experience. Our highly skilled roofers have exceptional standards of quality workmanship and health and safety with Topline achieving a SiteWise Gold Status with a score of 100% for 7 years running.
Get in touch with Topline's knowledgeable team of roofing experts now to see how we can help with your commercial roofing requirements. Phone 0800 555 818 or enquire online!