Don't rain on my parade
The largest institute of Technology in New Zealand, Unitec Institute of Technology services over 16,000 students. Housed across three sites, the main site at Mt Albert campus operates from 177 buildings spread over 53.5 hectares.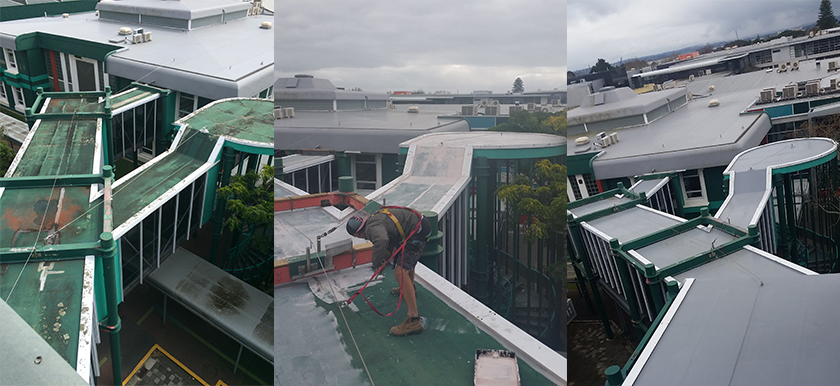 Topline Roofing has been working with the facility management team at Unitec for many years, and is the 'go-to' supplier for new roof builds, maintenance, repairs and servicing. When the ageing, leaking walkway needed to be repaired, Topline was on hand to undertake the work.
Safety steps
Upon closer inspection, the roofing team at Topline discovered that the 160 m2 walkway was leaking, causing damage to the interior of the structure and rotting the timber underneath. Students and academic staff were getting wet moving from one building to another.
Topline needed to make the walkway weathertight, and needed access to work on the bridge during term time. As a safety precaution for the students and staff on campus, fences were erected all around the walkway. Topline Roofing has an excellent record when it comes to compliance and safety and the company is a member of the industry body Site Safe.
overcoat keeps out the rain
Once the safety barriers were in place the team set about cleaning and preparing the existing walkway membrane for application of a Silcoat Overlay Membrane system.
Silcoat (manufactured by Viking Roofspec) is a remedial liquid roof coating which, when applied to existing roof surfaces, protects and extends the life of the roof. Designed for repairs and maintenance, it can be applied to virtually any existing roof surface to provide a weathertight seal.
Created specifically for the extreme New Zealand weather conditions, Viking Silcoat is easy to maintain, is unaffected by harsh UV light and forms a seamless membrane that can tolerate pooling water.
To complete the job, the Topline team removed the metal flashings and refitted them once the Viking Silcoat had been applied. They also removed rotting timber under the walkway and installed new plywood flooring.
The walkway is now completely watertight and will protect against the elements for many years to come.
"Not so long ago, this project would have required a total re-roof. The new technology that is in the marketplace from manufacturers like Viking Roofspec means that we can now offer a robust repair job rather than a new roof. These products tend to come with excellent guarantees and a warranty. They are designed with longevity in mind."

KARL SYMONS | TOPLINE PROJECT MANAGER