Roofing for a Unique Environment
Woodfern Crescent is a classic Titirangi street, surrounded by the native trees that give the area its distinctive character. To ensure their home was as warm, weather-tight and energy efficient as possible, the Blazeys contracted Topline to install a warm roof.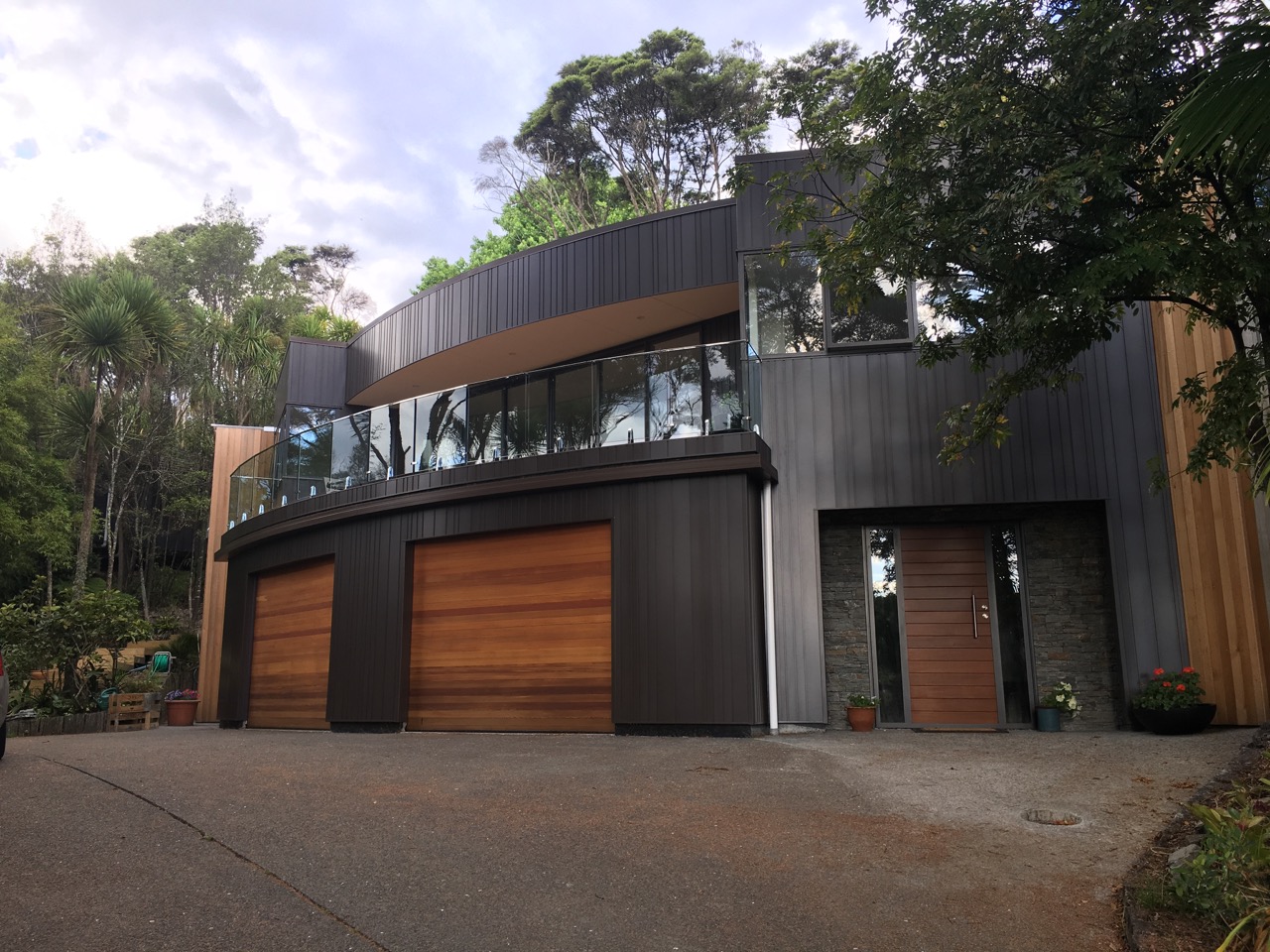 The West Auckland suburb of Titirangi is an area of great natural beauty, but the dense bush, hilly landscape and close proximity to the ocean can mean a lack of sunlight and lingering damp for residents living in older or poorly insulated properties. Constructed from eco-friendly insulated roof panels, which offer excellent thermal retention and external noise reduction, warm roofs are perfect for the Titirangi setting.
38mm Polyiso panels were selected for the Blazey project, with 1.5mm Enviroclad membrane roofing, to be laid over the existing membrane roof.
Wrap it Up
Before works began, Topline Project Manager Karl Symons decided the best plan of action involved shrink wrapping the house. By protecting the building from the elements, shrink wrapping, or 'building wrapping', enables work to continue during bad weather – imperative for ensuring a project is completed on time, within budget, and without the building suffering adverse effects from excess moisture or exposure. Shrink wrapping is employed all over the world, and is particularly useful in Auckland's notoriously changeable weather.
Throughout the Blazey roofing project there was a great deal of rain and wind, and the wrapping, whilst initially seeming costly, proved invaluable.
Introducing RhinoBond
When securing membrane roofing and insulation, Topline like to work with RhinoBond, developed by North America's leading supplier of commercial roof products, OMG, and distributed in New Zealand by Viking Roofspec.
RhinoBond is an alternative insulation and membrane attachment system for TPO and PVC membranes. The ingenious system uses the same fastener and plate to secure both the insulation and the membrane to the deck, without penetrating the roofing material. Benefits of RhinoBond include enhanced wind uplift resistance, reduced membrane 'flutter' and even load distribution.
The Woodfern Crescent warm roof build was ideal for the RhinoBond system, and the project benefitted from the improved productivity offered by the quick and straightforward installation process.
Keeping it in the Family
The Blazey home's architecture includes a curved detailing for the parapet, which required special attention. Topline sought to identify the best looking and performing brackets for this detailing, and together with Topline supplier Roofing Accessories Ltd, and the client's son in law, worked to develop special brackets, produced as a bespoke solution.
The Finish Line
As a process driven company, Topline place great importance on smooth and transparent project management, making sure our clients understand exactly what is happening, when. The Woodfern Crescent warm roofing was completed on time and on budget, to the exceptional standard Topline is known for - giving the Blazey family home added warmth, security and energy efficiency.
"Karl and his team were very helpful and professional in solving the problems presented by unusual angles and joins, and the work has all been done to a very high standard."

Grant Blazey