Roofing court short
Takapuna Court Apartments situated on Auckland's North Shore consists of ten residential town houses. Earlier this year, Topline Roofing was asked to make recommendations for replacing the leaking concrete tiles by building contractor Brosnan Construction.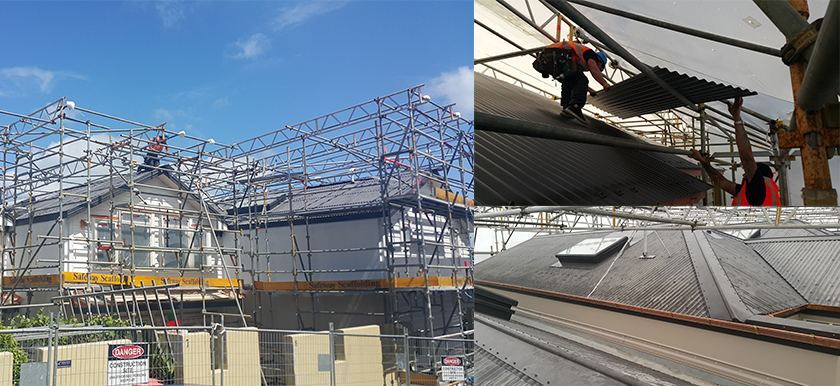 Topline Roofing were quick to suggest that Colorsteel® roof sheets and flashings would be the most suitable materials. Extensively tested and proven in some of the country's most extreme weather conditions, Colorsteel® prepainted steel is durable and robust and keeps the water where it should be – outside.
She's a big job
Each one of the ten houses needed to be shrink-wrapped as concrete block walls were altered and the new roofs installed. Due to the scale of the job and the disruption, all of the tenants needed to move out for the duration of the 3 month project.
Due to the scaffolding and shrink-wrapping around the houses, Topline Roofing was unable to get a crane on site to lift the metal roofing sheets. All materials had to be manhandled into place, which necessitated extra time and additional health and safety measures to make sure all personnel on site were safe.
Topline was involved in advising on rebuilding the timber framing before installing the metal roofing sheets. Working with the site's architects, the Topline team built custom-made flashings which had to be fabricated in aluminium before being dry fitted to check they worked. Once fitted to the correct specifications, the flashings were taking off site to be powder-coated.
Commenting on the project, Topline Roofing's Neil Gillespie said, "This was a complicated job. Not only did we have to liaise with a number of other tradies on site to get the building weathertight, but we also had to make sure all of the flashings worked in situ to the specifications drawn up by the architect. Everyone pulled together to make sure the project was completed successfully."
The tenants have all moved back into their houses and each building is now weathertight. Topline Roofing provided Brosnan Construction with a 5 year guarantee for its workmanship and the metal roofing materials have a 15 year warranty*.

*When maintained in accordance with manufacturer's instructions.
"This was a complicated job. Not only did we have to liaise with a number of other tradies on site to get the building weathertight, but we also had to make sure all of the flashings worked in situ to the specifications drawn up by the architect."

NEIL GILLESPIE | TOPLINE MD & PROJECT MANAGER