Iconic City Fashion Store in Need of a Make-Over
Established in 1880, Smith & Caughey's is Auckland's oldest department store. Situated on Queen Street in a heritage building, Smith & Caughey's is renowned for its personal approach and attention to detail. Today the store stocks a range of quality products and luxury brands across a number of departments including: fashion, fragrance, cosmetics, accessories, homewares and food.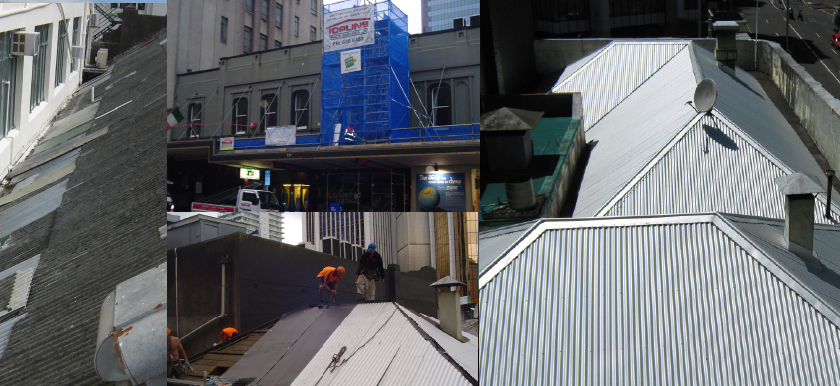 When a section of the roof atop the building on the corner of Queen Street and Wellesley Street was found to be rotting, rusty and leaking, Smith & Caughey's property manager put the job out to tender and Topline Roofing won the contract.
no internal access in lingerie department
Managing Director, Neil Gillespie said, "We won the tender based on three factors; our competitive price, our proven ability to plan and lastly - though most importantly - our commitment to health and safety."
Given the scale of the project and the volume of high traffic at the city central location, a traffic plan had to be put in place which required council sign off.
Neil says, "We had two access points to the roof. One was in the lingerie department inside the building and the other was via scaffolding on the corner of Wellesley Street. Since the store was operational during the refit, we obviously couldn't use the internal access.
Once our traffic management plan was in place, we erected the scaffolding and then brought in an 80 tonne crane after shop hours to lift materials on and off the roof," added Topline Roofing's Project Manager.
The sheer number of pedestrians and vehicle traffic meant that there were road closures, footpath diversions and safety barriers in place. The entire project was planned around minimal disruption and maximum safety for tenants, customers and the general public.
toxic shock
Once the Topline team gained access to the roof, they immediately discovered asbestos. Topline was able to safely remove and dispose of the toxic material in accordance with Worksafe New Zealand guidelines. The project manager comments, "Before we could rip out the old roof and asbestos we had to disable the air conditioning units that were next to the roof. Once the new iron roofing was in place, our team re-installed the air conditioning, while our building team replaced the purlins."
In recognition of the successful planning, logistics, installation and safety measures carried out by the Topline team, Smith & Caughey's property manager has asked the company to complete the remainder of the re-roofing work required on the heritage building.
"In my opinion, the project success was due to Topline's professionalism and the hands on approach taken by their project manager. Every aspect of the work was planned and well communicated."

GRANT MARVIN | OPERATIONS MANAGER