Warm and watertight
When the owner of a villa in Mount Albert contacted Topline regarding a new roof, the team provided a contemporary energy efficient warm roof solution as an alternative to traditional metal sheets.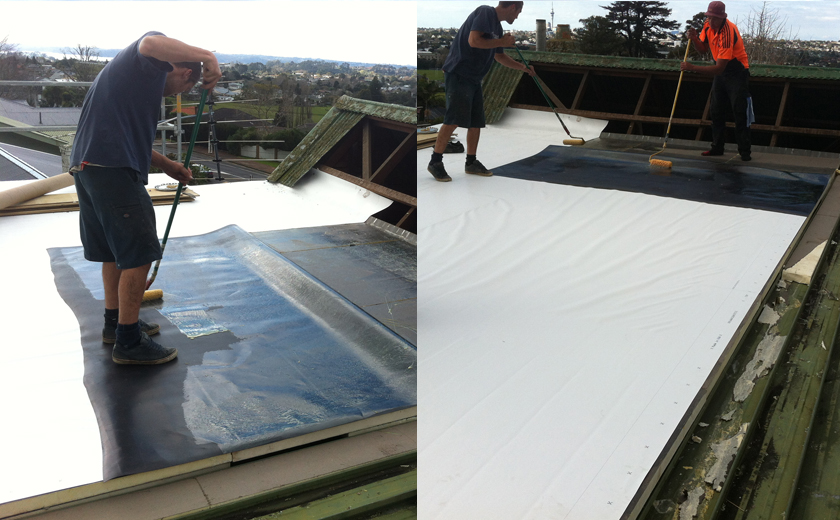 With the scaffolding in place, the Topline team was able to dismantle the existing material and replace with a warm roof solution. Manufactured by waterproofing materials supplier Viking Roofspec, warm roofs are recommended for flat roofs to ensure they remain weathertight. Topline has a long established relationship with Viking Roofspec and is a certified applicator for the company's products.
A warm roof solution is a roof system where the insulation is installed on top of the roof structure, insulating from the outside of the building. There are several benefits when fitting a warm roof - moisture is trapped on the outside of the roof which means that the homeowner will have no damp or rotten materials inside, there are savings in air conditioning and heating costs and they can easily be retrofitted on existing buildings.
Topline Director Neil Gillespie says that warm roofing is increasing in popularity and comments, "Architects are now specifying warm roof solutions for their clients. It's taken New Zealand a while to adopt the new technology, because there have been issues in the past with leaky buildings. Viking Roofspec has products which are absolutely proven to be watertight. From an aesthetic viewpoint this type of roofing is on trend and converts to the solution have realised the cost and energy efficiencies that it provides."
level pitch
A huge consideration during this project was that the level of the roof changed, which meant that the team had to install 250mm pre-painted fascia board to the perimeter of the flat roof as well as fitting a 125 ZR8 box gutter around the roof edge. Neil Gillespie comments, "To ensure the elements stay out, it is imperative to bring the drainage into line with the new roof level. On this project we were happy to help out with the remedial building work, before applying aqua seals to the roof penetrations to keep the water out."
The new roof has been a huge hit with the homeowners who are looking forward to energy savings and a warmer home during the colder, wet winter months.
"It's taken New Zealand a while to adopt the new technology, because there have been issues in the past with leaky buildings. Viking Roofspec has products which are absolutely proven to be watertight."

NEIL GILLESPIE | TOPLINE MD & PROJECT MANAGER