weathertight in the bush
Set in the bush, in the heart of Titirangi is Kohu Road, where Topline Roofing recently undertook a new roofing project on a family home. Topline were called in to replace the property's leaking flat roof with a new warm roof solution. With technical advances in the capabilities of warm roof systems, the Topline team was able to leave the existing roof in place and install the new roof on top of it.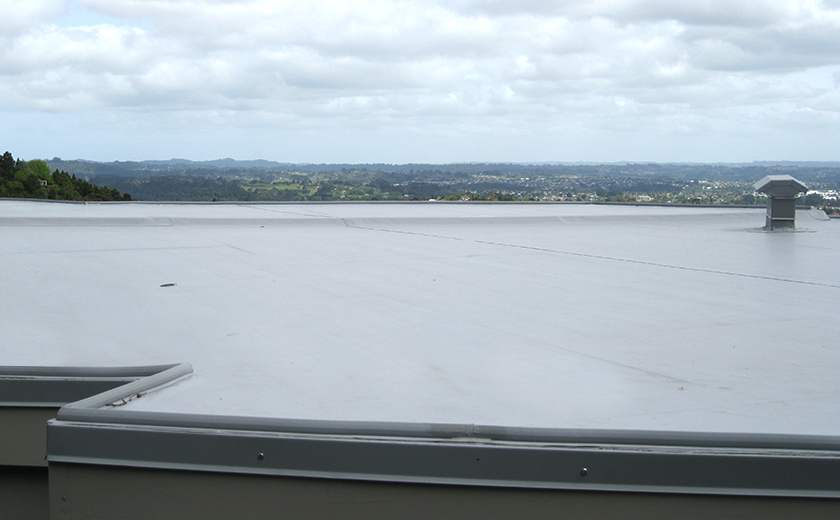 Once the scaffolding had been erected, Topline had to wait until the old leaking roof was completely dry before work could begin. With no internal roof space, the team fitted insulation in the form of compressed thick polystyrene on top of the old roof. Topline specified a Viking Roofspec warm TPO membrane warm roof solution. The product - which is completely watertight - is ideal for low slope and flat roofs. The TPO (thermoplastic polyolefin) waterproofing membrane is one of the best waterproofing systems in the world.
There are a number of key benefits when installing a Viking Roofspec warm roof solution; it's perfect as an overlay option, avoiding the cost of a total re-roofing job. The product has a high R-Value rating (an R-value is a rating which measures how well insulation can resist heat flow). The membrane is UV resistance which ideal for New Zealand's harsh sunshine and with a high puncture resistance, it protects property adding longevity to the life of the roof.
Viking Roofspec only allows certified applicators to install its products. Topline Roofing has been a preferred supplier for the manufacturer for many years and is the official applicator for the Auckland area. Commenting on the recent project, Topline's Residential Roofing Manager Karl Symons said, "Having the ability to overlay insulation and a membrane roofing solution leads to cost savings for our clients as we don't have to remove an existing roof and dispose of it. There is minimal noise, vibration or disruption to the occupants.
The Viking Roofspec products have been tried and tested internationally and in New Zealand, and continue to increase in popularity. A warm roof solution requires minimal maintenance, just a wash down occasionally, it's also weathertight and completely waterproof."
another level
As the roof was made taller with the addition of layers to the old roof, Topline had to adjust gutters and fascias to make sure the drainage was effective, and the guttering connected correctly with the downpipes to take rain water away. The team installed new 250 mm painted fascia board to the entire perimeter of the roof before fitting aqua seals to roof penetrations.
The family home is now weathertight once more, and the tired looking leaking roof has been replaced with a smart looking membrane finish.
"A warm roof solution requires minimal maintenance, just a wash down occasionally, it's also weathertight and completely waterproof."

KARL SYMONS | TOPLINE ROOFING MANAGER