Shopping for a new roof
Located on Picton Street is Howick Village Mall. A unique and friendly outlet, the complex includes a gym, restaurants, cafés and a hair salon, along with other retail stores. At the heart of Howick, the mall hosts the weekly Saturday morning market selling fresh produce and gifts to locals.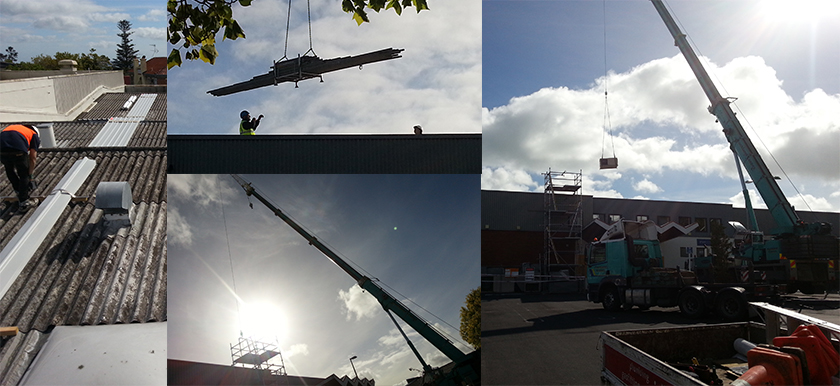 Built in the 1960s, the roof of the mall was falling into disrepair, and upon further inspection, Topline Roofing discovered the fibrolite roof contained hazardous asbestos.
safe and sound
Topline liaised with the Council to implement a safety plan for removal of the toxic roof. This involved the use of a 100 tonne crane on site which meant cordoning off the road, redirecting traffic and keeping members of the public away from the work being carried out.
Glyn Davies at Topline says, "We are used to working with councils and local authorities to ensure the safety of the public when it comes to projects of this scale. Our aim is to minimise risk to all site members, building staff and members of the public. We leave nothing to chance."
The crane was used to remove the air conditioning units before removing the decaying roof. Topline called in a specialist company to dispose of the asbestos material in accordance with regulations, before commencing with the rebuild work.
Whilst the timber framing beneath the old roof remained intact, the entire roof cladding needed to be replaced with Colorsteel® metal roofing sheets. All flashings, gutters and membranes were also upgraded to ensure the mall roof will be watertight for many years to come.
"Our aim is to minimise risk to all site members, building staff and members of the public. We leave nothing to chance."

GLYN DAVIES | TOPLINE ROOFING PROJECT MANAGER