topline on safety drive
When the huge consortium-owned building housing the Honda Service Centre at Manukau in Auckland needed a new roof, Bayleys Property Services - who manage the warehouse - put the job out to tender. Topline Roofing Services was awarded the project late last year.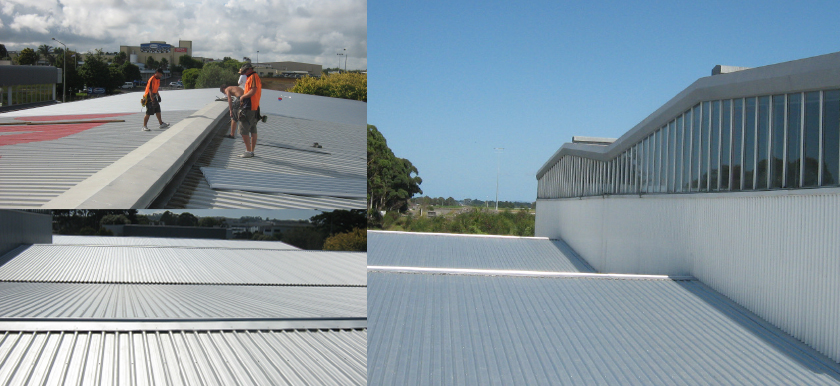 She's a big job
The entire roof at the massive warehouse situated at 105 Wiri Station Road in Manukau needed to be removed and replaced. The steel roof was leaking and the purlins at ridgelines were severely rusted. Measuring 2642m2, the plan was to replace the old steel with .55 gauge Zincalume Ribline roof sheets fitted on top of a new foil underlay, complete with all associated flashings.
business as usual
The Topline team certainly had their work cut out. Removing the rotting roof and replacing it was one thing, doing so while the warehouse was fully operational was another. The building is used by Honda for stocking and dispatching car parts and could not be closed for the duration of the project. Safety of site workers along with Honda personnel became a priority for project manager and his team.
keep talking
Topline was responsible for making sure all parties involved directly and indirectly with the re-roofing job knew how the project was progressing. Safety measures and protocols were established and communicated to all those involved. "At Topline we pride ourselves on being up-to-date with best practice and safety techniques and more often than not, we exceed industry standards.
Communication was the key to making sure everyone was safe on this job. We worked closely with the Bayleys Property Services people to manage the process so that everyone from the Honda staff to our team on the roof knew what was going to happen and when. This extended to the guys at Wormald who came in every day to switch the sprinklers on and off. Providing this detail both verbally and in writing was crucial in making sure there were no unpleasant surprises." Neil Gillespie, Managing Director, Topline.
"At Topline we pride ourselves on being up-to-date with best practice and safety techniques and more often than not, we exceed industry standards."

NEIL GILLESPIE | TOPLINE MD & PROJECT MANAGER