Henderson South Primary School
The team at Henderson South Primary School, located in West Auckland, was excited to be building a new, 6-classroom block to better serve their growing student roll. Topline was selected by Accent Construction, the main contractor, as supplier of choice to install the block's roofing, along with a MAXSAFE® Fall Arrest System to ensure the safety of all workers undertaking ongoing maintenance.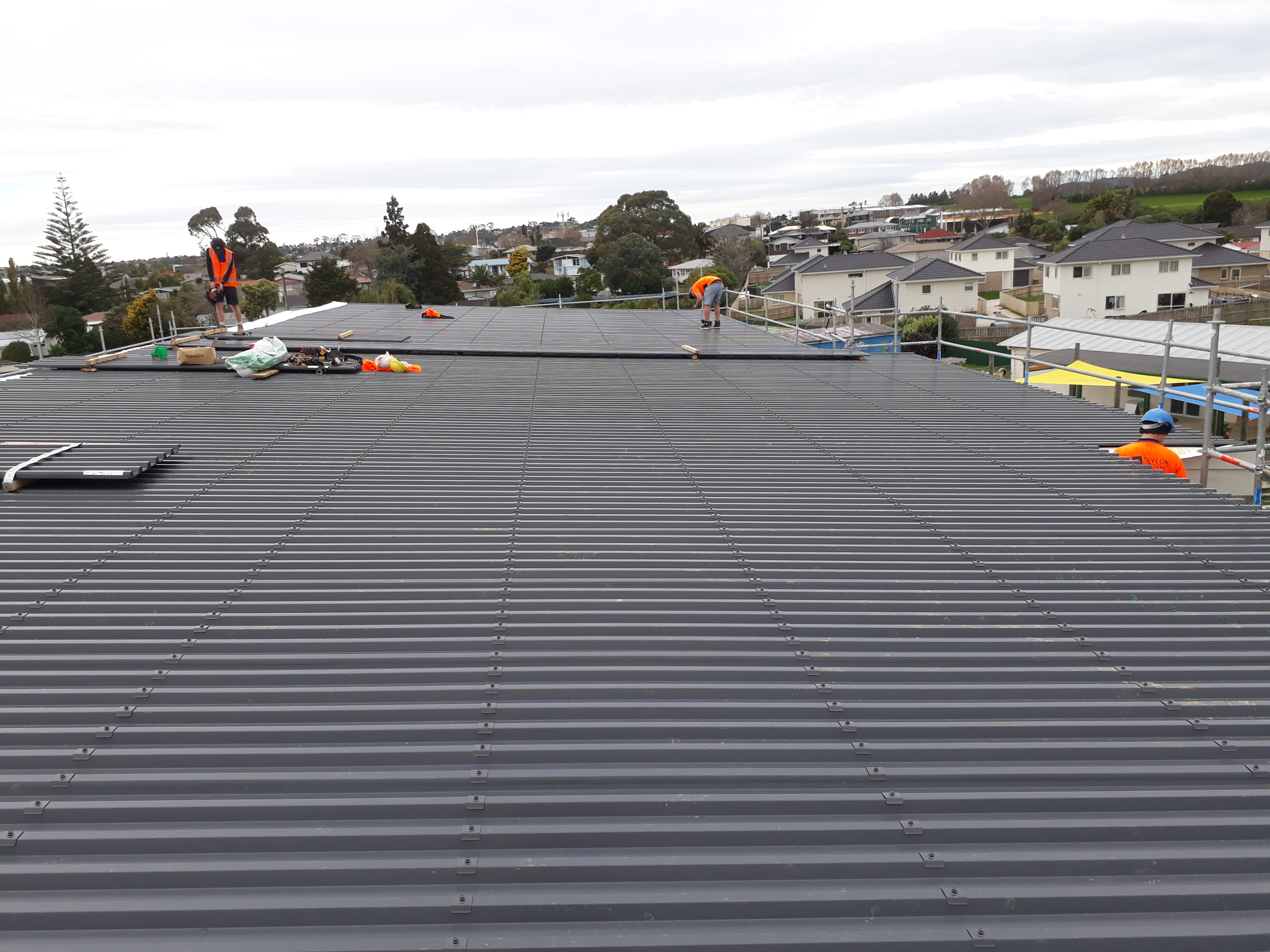 New build roof

The new 2-storey build was an addition to an existing school building, meaning our roofing team had to work with standing architecture to create a uniform finish.
0.55g ZinaCore X BB900 roof sheets, Covertek 405 underlay and safety netting were selected for the job, installed complete with associated roof flashings, a new Marley Magnum spouting system on internal brackets, and PVC downpipes.
Work Safety Solutions – For Life
MAXSAFE® design and manufacture 'no compromise' height safety systems for minimising risk, preventing accidents and saving lives. MAXSAFE® anchor systems offer a multitude of uses, with Fall Arrest and Fall Restraint protection, plus Work Positioning, Rescue and Confined Space applications.
For the Henderson South Primary School site, the MAXSAFE® MS02 was the ideal choice for the anchor points needed to achieve a positive Working at Height Safety on the facility. The gold standard, MAXSAFE® MS02 anchor systems are tested, proven and compliant with AS/NZS 1891 and AS/NZS 5532 Standards, and rated to 21kN when installed to a suitable substrate in accordance with manufacturer's instructions.
Topline prioritise safety, always. Our Commercial roofing team is fully MAXSAFE® trained and certified, and can advise clients on roof anchor recommendations and requirements when installing new roofing - key to ensuring the safety of a building's maintenance team.
All Together Now
Because Topline and Accent Construction share a strong safety culture, Topline worked extremely well with the Accent Health and Safety team.
For the smoothest, safest build, the project was undertaken during school holidays, with all work areas fully cordoned off. Health and safety was successfully maintained and prioritised throughout, including during very challenging weather conditions.
A Great Result
Henderson South Primary School's new build roofing was completed on time, on budget, and to the exceptional standard Topline is known for. The clients were delighted, claiming the project "went like a dream" – you can't top that.