Care in the community
Caughey Preston is a facility for the elderly, founded in 1950 through the bequest of Auckland business woman, Mrs Marianne Caughey Smith-Preston. As a non-profit organisation Caughey Preston's prime objective is to deliver excellent care in an environment where clients and their families are the key focus.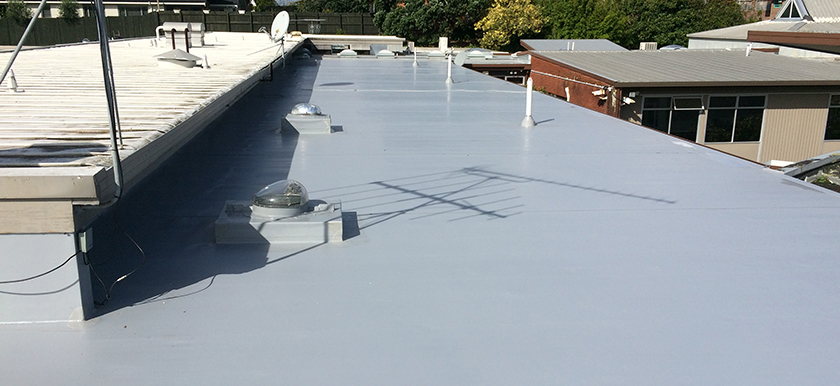 Consisting of a hospital, two rest homes and a secure dementia unit, Caughey Preston is set in 8.5 acres of park like grounds in Remuera, Auckland. The original 50 bed hospital was opened in 1964, and over the years has extended to 112 beds.
Sick hospital roof in need of replacement
Topline has enjoyed a long association with the rest home, managing its programmed maintenance and undertaking onsite work including plumbing and drainage projects. In the summer of 2016, work began as part of a longer term project to overhaul the roofing at the site. Topline Roofing was commissioned to fix the aluminium sheet roofing on the hospital roof which was leaking and in poor condition.
The Caughey Preston Trust Board tasked Topline Roofing with finding a solution that would cause minimal disruption to the residents, with the additional request of avoiding dust and noise. The Topline team suggested that a warm roof solution could be easily retrofitted onto the existing roof, significantly reducing the interruption to the environment of taking off the old roof and replacing it.
Procedures and protocols
Before work could commence, Topline Roofing organised for scaffolding to be placed all around the roof while cordoning off the area for the safety of residents, staff and visitors. A special access tower was erected for the team to get on to the roof.
The team started by adhering 100mm Kingspan Polyisocyanurate (PIR) rigid insulation panels over the top of the leaking roof. Similar to polystyrene, Polyisocyanurate is an insulation product. Topline Roofing then covered the product with a waterproofing membrane TPO (Thermoplastic Polyolefi) attached by plates and welded on with a specialist machine from RhinoBond. This relatively new equipment involves RhinoBond induction fastening technology - an alternative method of mechanically fastening the TPO without penetrating the membrane.
Although no remedial work was necessary in the cavity of the existing aluminium sheets, Topline did have to remove 28 windows that were rotting under the overhang of the roof. They were taken out and replaced by narrower aluminium windows with new mechanisms for opening.
New roof in excellent health
Commenting on the new roof, Topline's Sales and Project Manager Karl Symons said, "The warm roof solution on the hospital roof has an integrated vapour barrier. This means it will be watertight whilst also providing a higher R-value from the insulated sheets. Patients and staff in the hospital will have the added benefit of noise protection from the roof, with the building being quieter inside."
The entire project took only one month to complete, and the Topline team will be back next summer to work on the next stage of the roofing projects.