collaboration at b:hive
Topline Roofing is one of New Zealand's leading commercial and residential roofing experts, working across the wider Auckland region for over 30 years. While no job is too small, we get particularly excited when an unusual project, requiring out-of-the-box thinking, comes our way.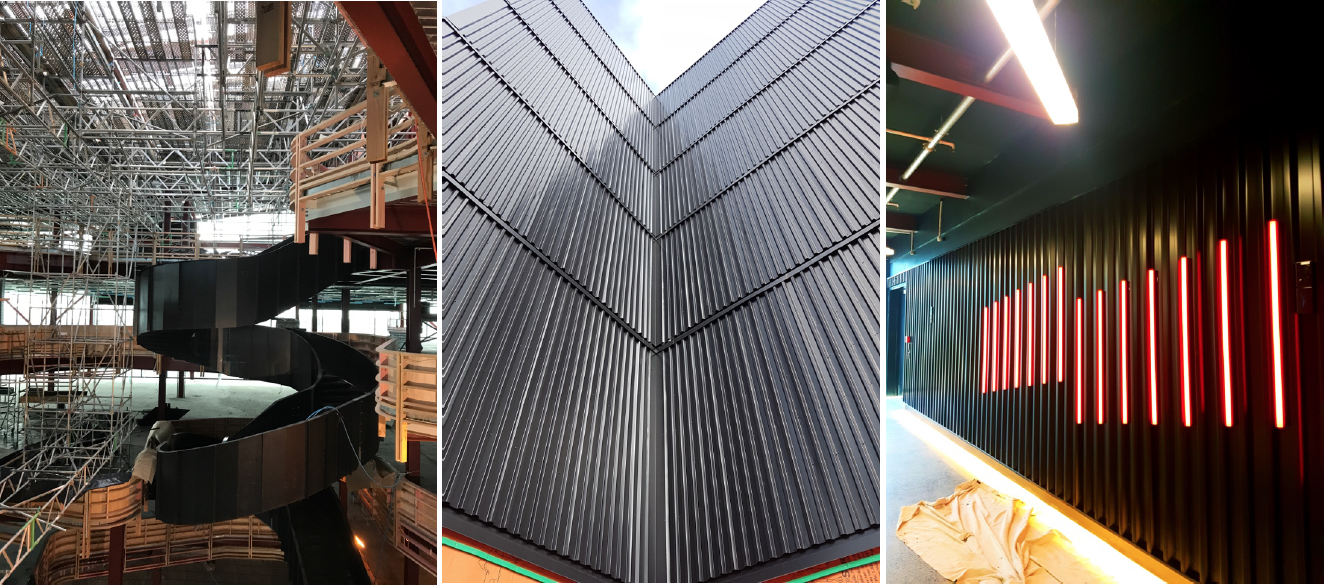 Innovative Architecture
Cue B:HIVE – a brand new, innovative building complex providing flexible office space over 5 floors and 11,000sqm, designed to offer human-friendly, eco-friendly business premises for lease. The project boasts stunning architecture, and many admirable goals as a business proposition. Topline was proud to be contracted by Leigh Construction, the owners of the B:HIVE build, to collaborate on some key elements.
First on the agenda was a warm roof. Warm roofing systems are constructed from eco-friendly insulated roofing panels, which offer excellent sound reduction as well as thermal properties. Ideal for commercial and residential use, warm roofing was the perfect choice for B:HIVE - a project with high aims in regards to sustainability and energy efficiency. The finished B:HIVE warm roof exceeds recommended thermal rating requirements (it also looks fantastic).
The Open-Air Atrium
Grounding principals of happy staff being productive staff are woven into every element of B:HIVE. A vertical, open-air atrium through the center of the building is a key feature to the 'human-friendly' architecture, allowing natural light to penetrate all floors for occupants to enjoy. Topline are installing the atrium cladding – a complex, multi-level task requiring expert handling for an optimal result.
0.40g and 0.55g MagnaFlow Multirib cladding sheets were selected for the job. A tried and tested product with proven durability, the MagnaFlow sheets have the additional benefit of being available in a range of colours to suit the architectural vision, with matching flashings. Strong but light, the MagnaFlow sheets are durable, attractive and easy to handle – and come with a 15-year warrantee. The range of MagnaFlow products available made selecting variants to suit the job simple. Architectural specifications were met, with horizontal flashings between each floor enhancing the cladding aesthetic.
Working across the 6 floors of open-air cladding installation, in challenging weather, Topline increased the size of the originally planned team to keep the project running to schedule. As Topline head into the final installation faze, the cladding is already looking fantastic.
Collaboration is Key
Topline is all about working with other experts, and we thoroughly enjoy the challenge of forward-thinking building projects in need of brand new solutions. Always abreast of industry developments and ever-evolving environmental policy, Topline offers clients the unique combination of experience, expertise, collaborative spirit and craftsmanship necessary to ensure the finished build exceeds expectations.
If you could use some fresh thinking on your next building project, give us a call – we'd love to discuss it with you.