Topline Get Rheem Out of Hot Water
With over 40 years of experience and expertise across New Zealand, Rheem is a global manufacturer and supplier of commercial and residential hot water solutions. Providing reliable, efficient hot water heating, Rheem's engineers produce the latest in heat pump water heating, solar drain back water heating, hot water cylinder technology and boiling and chilled water solutions.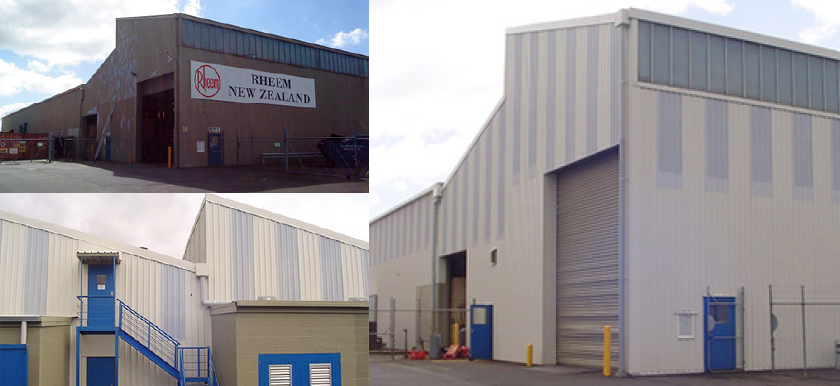 The company's water heating plant is based at Rosebank Road in Avondale, Auckland. The 1,540m2 building was erected many years ago using steel wall cladding sheets which did not allow natural light to enter the building. The worn cladding needed to be torn down and replaced with robust metal sheeting combined with tough clear sheets to let the light in.
Let there be light!
Topline Roofing won the contract to undertake the recladding and specified new .55 gauge Trimrib cladding sheets. To increase the amount of natural light, Topline recommended installing Topglass GC Cool clear sheets to the top sections of the cladding. By staggering clear sheets between the iron sheets on the south, west, east and northeast sides of the warehouse, the building has effectively been given a number of robust windows.
Additional challenges
The sizeable project presented some added challenges for the Topline team. Firstly, the factory had to remain open during the removal and reconstruction, and secondly, gas equipment needed to be removed and re-instated during the build.
Health and safety
Health and safety has always been a top priority for Topline Roofing. All divisions within the business take risk management very seriously and are committed to completing every job safely.
In accordance with Department of Labour health and safety regulations, teams regularly attend courses and are provided with all the necessary safety equipment. The Project Manager was responsible for making sure Topline personnel, Rheem staff and visitors to the site remained safe at all times, "Working at heights always incurs an element of risk. In this case, we also had to be aware of Rheem's busy forklifts and trucks in use around us," says The Project Manager.
It was my job to communicate clearly with all parties involved in the project to ensure everyone was safe and the production plant could remain operational and secure during the re-fit."
A range of trade services
Topline Roofing was able to work with the Topline Gasfitting division to make sure the plant's gas equipment was safely removed and re-installed. The in-house team of licensed gasfitters approach every job with a focus on quality workmanship, and compliance with gas certification requirements and health and safety rules and regulations.
Job done
During the process of replacing the rainheads and downpipes, the Topline team discovered that the underground stormwater lines had collapsed. Working in collaboration with the existing project team, the Drainage team from Topline Trade Services were called in to replace broken equipment.
Plant Manager at Rheem, Philip Sawle was delighted with the end result, "We have been really impressed with the job that Topline did. There was minimal disruption to our daily production, and they took the issues of health and safety very seriously indeed. It was beneficial for us in terms of time and money to employ one company that could undertake a number of trade services rather than hire in specialist contractors."